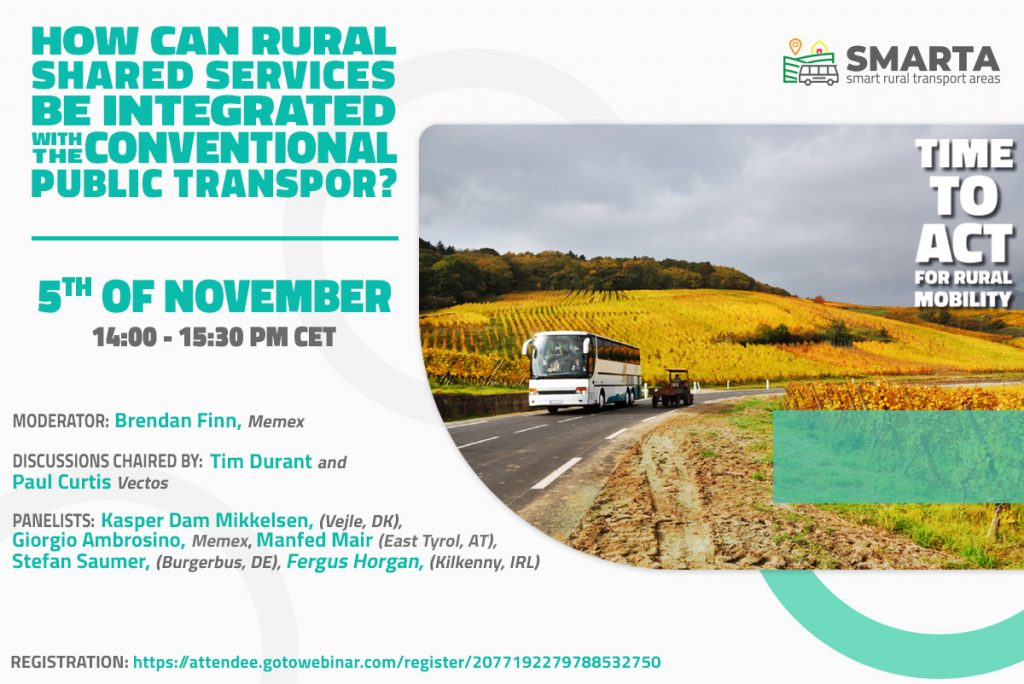 Are you curious to take a more in-depth look at rural mobility?
Join us for our 3rd and final thematic webinar of our autumn series – "How can rural shared services be integrated with the conventional public transport?" taking place on the 5th of November!
The webinar aims to discuss the main issues of integrating different forms of shared mobility solutions with conventional public transport. The cross-cutting themes are (i) what does "integration" mean for rural shared mobility and what are the practical solutions in this context; and (ii) what are the implications of the inherently-different nature of conventional public transport and rural shared mobility. Integration will be examined at different levels: planning, operational, organisational, and user relations.
The event will open with presentations from two sites: Vejle (DK) and Elba (IT), each dealing with different forms of mobility services and their integration. Two-panel discussions with SMARTA and SMARTA2 sites will be organised, the first dealing with the main "integration layers" (collaborative working and mobility/service planning, physical integration, technology and operations) and the second with the challenges and opportunities in dealing with stakeholders and users (customer services, marketing, and promotion, financing, regulations, and permissions).
You can register here:
https://attendee.gotowebinar.com/register/2077192279788532750
For more updates keep following our website and social media channels!