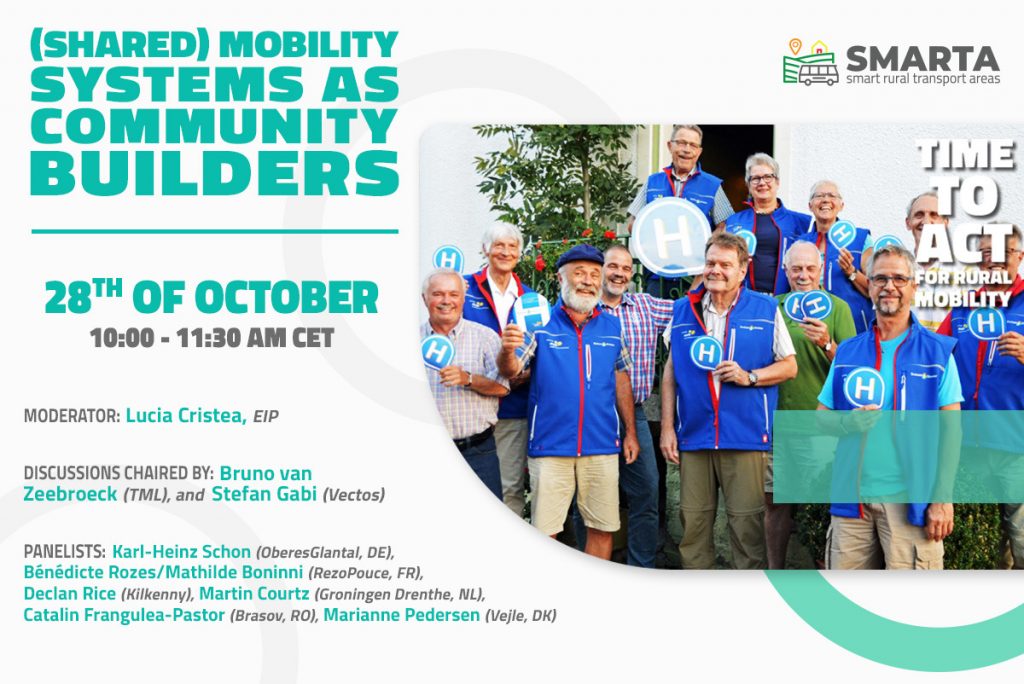 Are you curious to learn more about shared mobility systems?

Join in for the second webinar in our autumn edition of the Time to Act for Rural Mobility thematic webinar series which will take place on the 28th of October between 10:00 and 11:30 AM CET. This round, we will be having an in-depth discussion about how communities benefit from implementing shared mobility systems.

The moderator of this event will be Lucia Cristea (EIP) and discussions will be chaired by Bruno Van Zeebroeck (TML) and Stefan Gabi (Vectos).

The panelists that will be joining this event and will share their thoughts as well as lessons learned and innovative ideas will be Karl-Heinz Schon (OberesGlantal, DE), Benedicte Rozes/ Mathilde Bonnini (RezoPouce, FR), Declan Rice (Kilkenny), Martin Courtz (Groningen Drenthe, NL), Catalin-Frangulea Pastor (Brasov, RO) and Marianne Pedersen (Vejle, DK).

For more information about the webinar series and our events, stay tuned to our website and our social media channels!