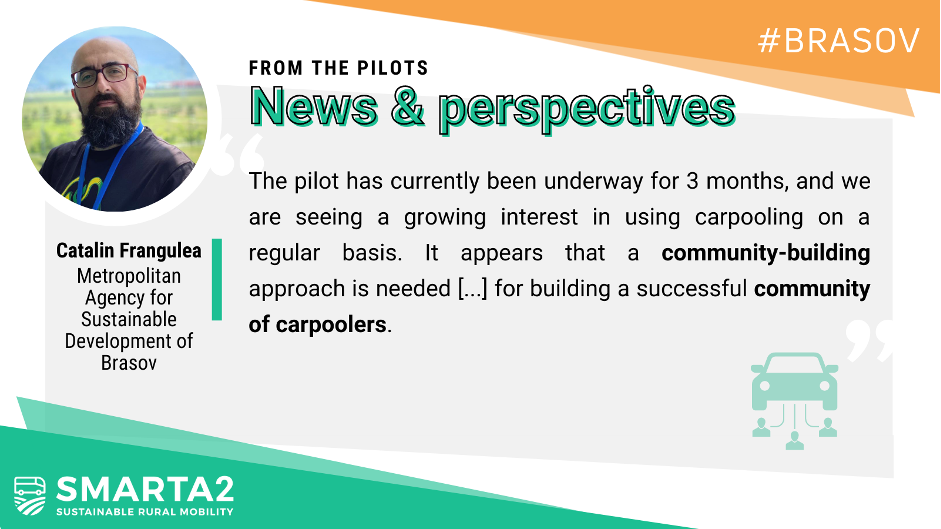 The pilot at a glance: What is the Brasov's pilot about?
Our pilot is focused on introducing carpooling in Brasov Metropolitan area as an innovative approach to travelling from rural areas to the adjacent urban center. We want to provide rural dwellers with alternatives to the use of the private car, so that they can develop a more sustainable mobility behaviour. Our end goal is to promote the use of a redesigned public transport service as part of a larger endeavour to boost sustainable mobility.
The pilot has currently been underway for 3 months, and we are seeing a growing interest in using carpooling on a regular basis. It appears that a community-building approach is needed in order to consolidate relationships within the local community, which stands as a prerequisite for building a successful community of carpoolers.
Covid-19 impact: Was Brasov's pilot affected?
The Covid-19 pandemic has hit us extremely hard. Social distancing rules have made it close to impossible to develop a carpooling community, to bring people together into community-building events, to allow relative strangers to become carpoolers. As a result, the level of involvement and outcome has dropped significantly from our initial expectations.
Top tips: How did you engage with your local community?
Initially, our community engagement approach was centered around online tools in order to appeal to a digitally literate target group. To this end, a web-based app was developed to allow for the matchmaking between drivers and passengers, as well as to support a better planning of public transport trips. This component was also supported by a social media presence underlining the main message of SMARTA2. As the Covid-19 pandemic evolved and influenced how people react to interacting with one another, we found ourselves unable to organize previously planned community-building events. However, we resorted to the backup plan of calling community members and explaining them over the phone the benefits of joining the Brasov SMARTA2 experience.
About Catalin
Catalin is a project manager within the Brasov Metropolitan Agency in Romania. He has been involved in various mobility projects for the last 10 years with a focus on improving mobility behavior and reducing the carbon footprint of transport. Currently he is coordinating the SMARTA2 demonstrator in Brasov alongside projects related to the development of rural communities in the Brasov metropolitan area.
About the Metropolitan Agency for Sustainable Development of Brasov
The Brasov Metropolitan Agency is an association of public bodies representing the communities in the Brasov City Region. With a total population of over 400 000 inhabitants, The Brasov metropolitan territory is one of the economic and social development engines at national level. The metropolitan agency provides assistance in the design and implementation of public policy acting as an integrator among local authorities.
Want to see how Brasov's carpooling solution looks like in practice? Then visit mobilitaterurala.com
For more information about Brasov and the rest of the SMARTA and SMARTA2 pilots, click here.