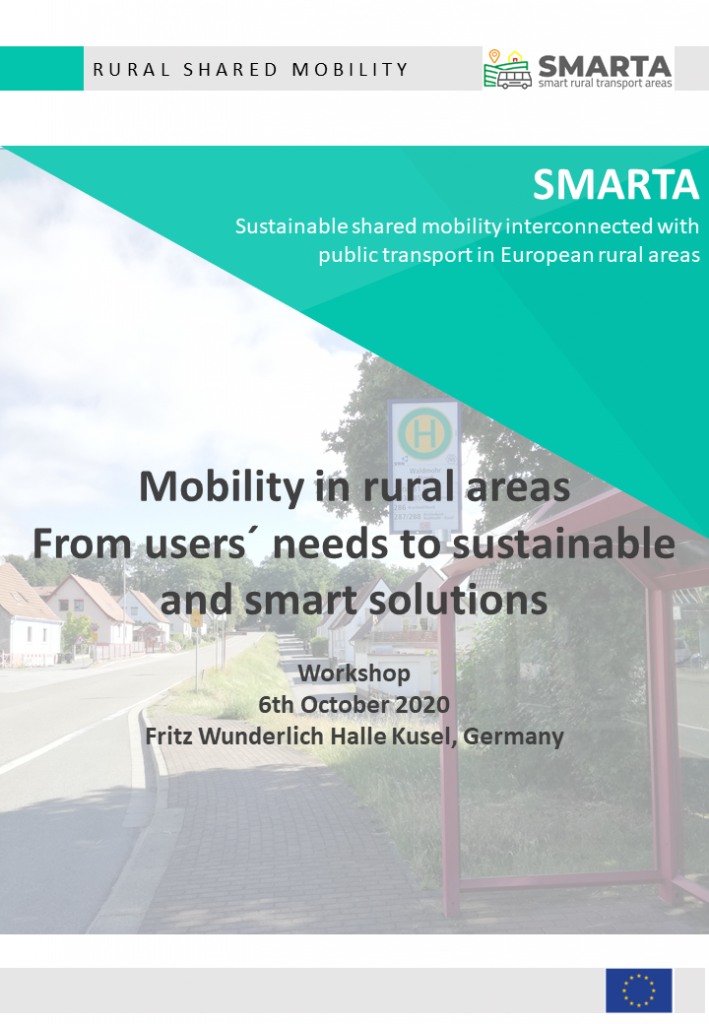 How to switch from users' needs to smart solutions!
Bürgerbus Oberes Glantal is organizing the "Mobility in rural areas: From users ´ needs to sustainable and smart solutions" workshop in collaboration with SMARTA, to be held on Tuesday, the 6th of October in the Kusel District, Germany.
The one-day workshop will bring local communities together with planners and political decision-makers. After the interventions of the SMARTA project and the KomMaaS project, good practical solutions for rural mobility will be presented: "Ring a Link" from Kilkenny, Ireland, and the Bürgerbus from the Oberes Glantal Valley, Germany.
The vision for mobility in the Kusel district towards 2035 will be introduced accompanied by a keynote lecture on the future of rural areas from Otto Rubly (District Administrator of the Kusel District), Michael Matern (RENN.west) Andrea Lorenzini/Claudio Disperati (MemEx Srl), Steffen Hess/Matthias Koch (Fraunhofer IESE), Stefan Gabi (Vectos), Declan Rice, Jackie Really (Ring a Link & Kilkenny LEADER partnership), Karl-Heinz Schoon (Bürgerbus Oberes Glantal), Prof. Dr. Peter Heck from Environmental Campus Birkenfeld and Frieder Zappe (Verkehrsverbund Rhein-Neckar – VRN).
The conference will be held in English and German. The interventions will be translated synchronously into the other language.
Participation is free. However, registration is required both for participation on-site and online with Zoom (Zoom-ID: ID: 945 4152 0076): Kreisvolkshochschule Kusel, www.kvhs-kusel.de , kvhs@kv-kus.de or via www.buergerbus-og.de
The contact person is the mobility officer of the Kusel district: Karl-Heinz Schoon, info@khschoon.de
For more details about the event please check the agenda, here.