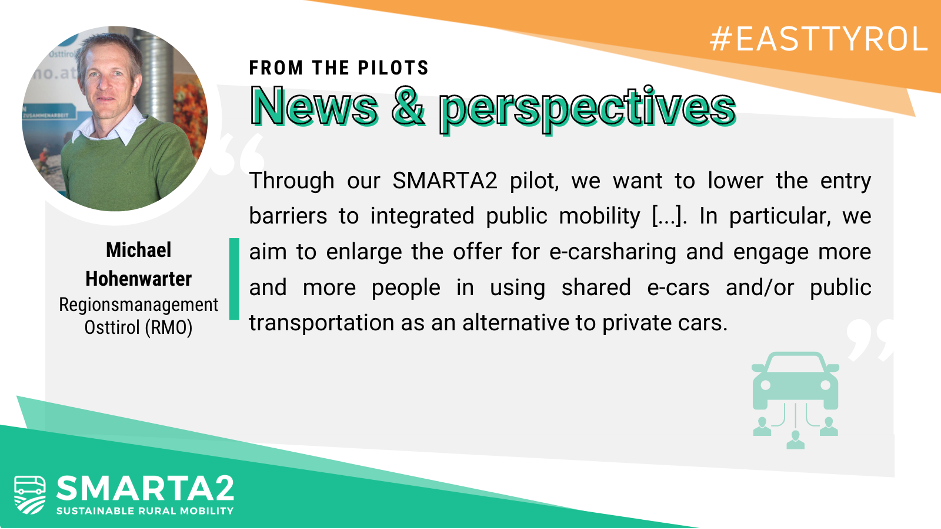 The pilot at a glance: What do you aim to achieve through the SMARTA2 pilot?
Through our SMARTA2 pilot, we want to lower the entry barriers to integrated public mobility and make mobility greener and cheaper for end-users. In particular, we aim to enlarge the offer for e-carsharing and engage more and more people in using shared e-cars and/or public transportation as an alternative to private cars.
So far, we implemented 4 new e-carsharing stations and issued around 300 free carsharing and public transport tickets. Several communication activities were also implemented in order to spread the word about the initiative.
Covid-19 impact: Was East Tyrol's pilot affected?
Covid-19 seriously affected our pilot. As people had and still have to stay at home, mobility rates have dropped. Additionally, people prefer to use their own cars, as shared and public means of transportation appear as more precarious, given the current health crisis.
In addition to Covid-19, this winter we are also facing the problem of huge amounts of snow, which made mobility nearly impossible for several days in December and January. In general, changing mobility patterns cannot be achieved solely through a single pilot project, that is why we have already been making efforts to uphold sustainable mobility for about 10 years.
Top tips: How did you engage with your local community?
In general, to involve the local community more, we resorted to standard means of communication, and notably emails, video, radio, posters as well as open days to test the service. Something that proved to be very effective is word of mouth. When the "right people" speak about what is happening within the pilot, that is already a form of positive and influential promotion.
What's next?
We are starting with the evaluation of the work done so far, and namely to monitor how the different e-carsharing stations performed, as they all present different characteristics.
About Michael
Michael Hohenwarter has studied spatial engineering and has working experience as a consultant for tourism and sustainable development. Since 2013, he is the CEO of the Regionsmanagement Osttirol (RMO).
About the Regionsmanagement Osttirol (RMO)
RMO is a non-profit association based in Lienz and mainly financed by the municipalities of the district. The purpose of the association is the promotion of regional development and the improvement of the infrastructure and the economic basic conditions in the district of Lienz. It is a contact point for people with regional project ideas who want to give sustainable impulse to the region.
Want to get a closer look in East Tyrol's carsharing solution? Then visit https://besmarta.at/
For more information about East Tyrol and the rest of the SMARTA and SMARTA2 pilots, click here.